IIT - JEE Update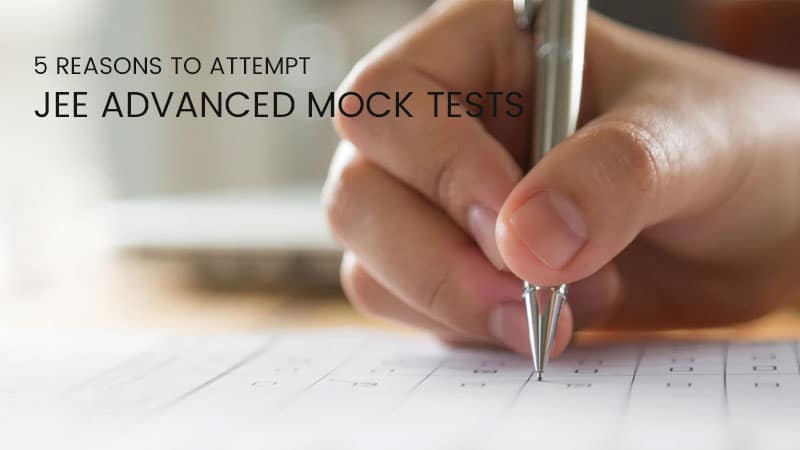 Attempt JEE Advanced Mock Tests
JEE exam 2022 is around the corner, and JEE aspirants must be at the peak of their preparation. These few months are the golden time for you to prepare for the most challenging exams in India and get into one of the top engineering colleges like IIT and IIIT. 
One of the most trusted ways for you to prepare for JEE advanced is to attempt JEE advanced mock tests. They are really helpful in improving your overall performance. To help you better understand, we have prepared a comprehensive guide that talks about a few reasons why you should attempt JEE advanced mock tests. 
Image Source: Shutterstock
Helps You Keep the Syllabus on Your Fingertips
The subjects that you need to prepare for the JEE examinations are Physics, Chemistry and Maths. It is important to be well-versed in the important topics to clear the exam. Attempting the JEE advanced mock test helps you revise the syllabus from time-to-time and keep the syllabus at your fingertips. 
Another key benefit of the JEE advanced mock test is that it helps you increase your speed while attempting the actual paper. Good speed will ensure you do not miss out on questions or lose marks unnecessarily. 
Help You Know Your Strengths and Weaknesses  
JEE advanced mock tests give you a clear idea of your strong and weak areas. Knowing this will help you get clarity on which topics need more time and focus. Apart from this, they also help you self-evaluate your performance and prepare accordingly.
It is important for you to be confident. Being nervous will only hamper your performance. The JEE advanced mock test will help you gain confidence and get better at attempting the actual paper. In addition, it will also help you avoid panic and be calm on the big day. 
Helps Understand the Exam Pattern 
JEE Advanced mock tests help you get familiarised with the exam pattern, the difficulty level and the right ways to attempt the questions. Further, it helps you gain a rough idea of expected questions in the exam. 
Moving Forward
By regularly attempting JEE advanced mock tests, you can overcome the issues of anxiety, avoid missing out on important topics and work on your weak areas. In addition, it helps boost morale and confidence, thereby improving overall performance. Sri Chaitanya Institute is a top coaching institute that prepares students for competitive exams like IIT JEE. Our faculty consists of renowned educators who work on shaping the students and providing them with the right guidance. 
Further, we offer comprehensive study materials and regularly conduct JEE advanced mock tests to help you better understand your preparation levels. Visit our official website today and know everything about our 1-year integrated IIT JEE coaching and JEE advanced mock tests series.