NEET Blog Update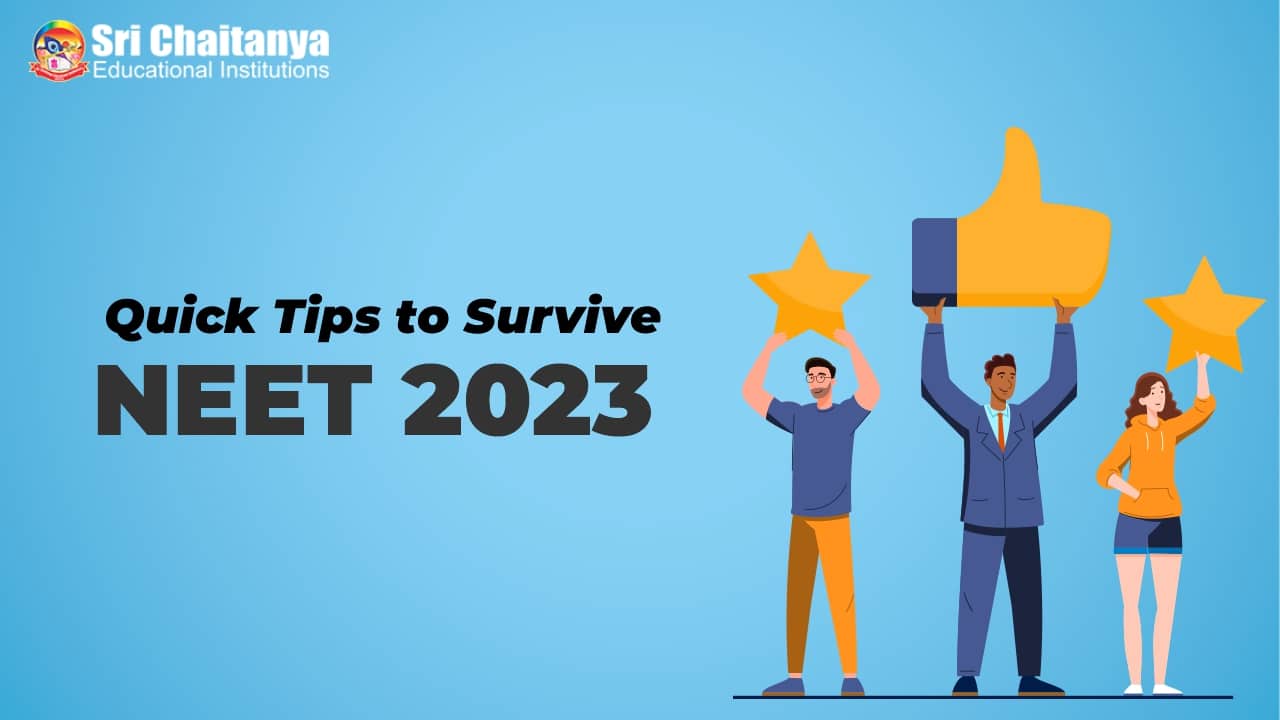 The NEET or National Eligibility cum Entrance Test is a national-level medical entrance examination conducted for students seeking admission to undergraduate medical and dentistry courses. It is a highly competitive medical entrance exam in which every year 12 to 14 lakh students compete for just a few thousand seats. The success rate of this exam is quite low and students have to put in the immense effort and undergo rigorous training in the course of their preparation. NEET aspirants stand a great chance to survive NEET 2023 if they comprehensively cover the syllabus and have invested a good amount of time in self-assessment.
Follow these vital tips to start your NEET 2023 preparation:
Develop a regular habit of studying every day, as it will allow students to study for long hours with full concentration.
Students should lay focus on understanding the concepts and apply them while solving problems and to achieve this they must enroll with reputed NEET coaching institutes like Sri Chaitanya.
Students should try to maintain accuracy as well as speed and try to be both fast and accurate which comes with a lot of practice.
Students should try to solve a problem with different methods that enhances their analytical skills.
Students should make notes from the beginning by including important points, shortcuts, reactions, and shortcuts, as these will be of great help at the time of revision.
Lay a great emphasis on discipline and time management.
Some of the few secret tips that will help aspirants survive NEET 2023 include:
Maintain a Positive and Progressive Attitude
Self-belief and a positive attitude really matter for success in this highly competitive examination. The attitude with which students proceed with their preparation determines their success in the exam. Students who lose hope in themselves and develop a negative attitude will find it difficult to attain success. If students start their preparation with a positive attitude then their brains will work at their creative best.
Complete the NEET Syllabus Well Ahead of the Exam
NEET aspirants will be better placed to succeed if they will comprehensively cover the NEET syllabus well ahead of the exam. To obtain this they need to prepare proper study plan that will allow them complete syllabus well on time. This is essential for cracking a competitive exam like NEET because they will have sufficient time for revision and for self-assessment.
Study with Diagrams, Tables, Formulas, and Graphs during last-minute Preparation
It is easy to remember information that is presented in the form of tables, graphs, diagrams, etc., and allows students to cover and remember much of the NEET syllabus with ease. Thus, students should prepare their study plan with charts of important formulae and make tables and flowcharts of topics that are difficult to learn and put up these in front of their study table to revise these things every day.
Practice Mock Tests
NEET aspirants should frequently practice mock tests during the last phase of the preparation. On average students cannot afford to invest more than one minute per question and hence they need to learn time management skills to attain success in NEET. This can only be achieved with the regular practice of the mock tests and hence they need to be consistent with their practice to master time management skills.
Don't Start Something Fresh during the Last Days of Preparation
During the last days of preparation, students should only revise topics in which they have good command because starting something new in the last hours will confuse the students. The final few days before the examination is the best time to revise and retain knowledge that they have already acquired and should not run behind new facts and topics.
Maintain Good Health
NEET being India's highly competitive and tough medical entrance examination requires consistent hard work and dedication from the students for a long period. A gap of even a few days in the preparation may have serious consequences. Thus, students should take proper care of their physical and mental health by maintaining a healthy diet plan and proper sleep routine to stay healthy and energetic for the entire preparation duration.